Most, if not all, children had night terrors growing up. Some would hide under the covers. Others would yell for their parents. Kid-version Jason Ragosta, screenwriter and director, decided to make a deal with his monsters where he would bring them to life through drawing and in exchange they would protect him. Years later, Jason would turn this childhood story into a horror short film titled, Boy In The Dark.
We interviewed Jason Ragosta to learn more about the creative process behind Boy In The Dark and how the film ended up with the horrifyingly convincing visual effects.
The following interview has been edited for clarity and length.
1. In your own words, can you tell us what Boy In The Dark is about?
Jason Ragosta: Boy in the Dark is about a young boy named Jake who is plagued by a night terror when he sleeps and a merciless bully when awake. The recent loss of his mother has pushed his father past his breaking point, leaving Jake to find his own way to process his grief, which he does by filling the sketchbook with drawings of fantastical creatures. When the bully steals Jake's sketchbook, he is forced to find the strength to stand up for himself.
2. How did you come up with the idea? What was the inspiration behind the film?
Jason Ragosta: The Inspiration for Boy in the Dark came from my friend, Tom Pankratz, who watched my TEDx talk that I gave on world-building and storytelling. In the opening of the talk, I told a personal story from my childhood about how I suffered from insomnia and an overactive imagination. I spoke of how I suffered from night terrors and how I made a deal with the monsters, how I would draw them and give them life and in exchange, they would protect me in the dark. Tom suggested that I make a short film based on that part of my childhood combined with the persistent bullying that I suffered throughout the end of grade school and middle school, and Boy in the Dark is the fictionalized result.
3. As the director and writer of the film, were there any scenes or details that ended up differently than what you had originally envisioned?
Jason Ragosta: Originally, there were these snake-like hand puppet creatures that were going to be in Diana's backpack prison tormenting and guarding her, but fabricating them on top of all the other creature effects proved to be more than our budget would allow. It ended up working out fine, though because the creatures we do have, created by our long-time collaborator Pandora FX exceeded every expectation that I had.
4. What was the process of creating the monsters in the film? How did you end up with the designs shown in the final cut?
Jason Ragosta: For the monsters in the film, I was doing a drawing a day in Jake's sketchbook to populate it which gave Margaret Caragan, founder and head of Pandora FX, plenty to go off of to design the final look which was a combination of custom sculpted appliances and a store-bought appliance from RBFX. The final element of Diana's look came from our costume and wig maker Rachel Dagdagan who built Diana's dress feel like the black and white drawing and who created a truly magnificent custom wig that was key to perfecting the final look.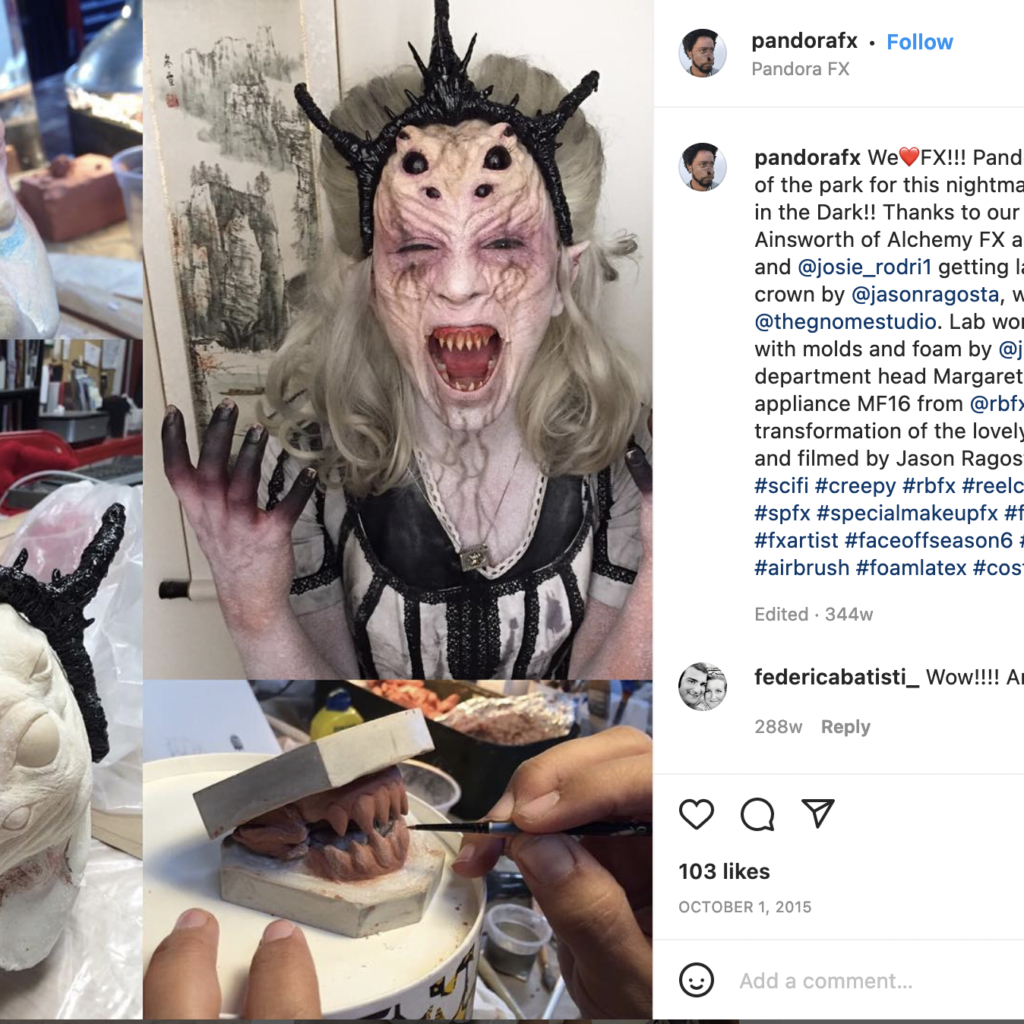 5. From what I hear, working with child actors can be a challenge. How did you have to change your directing style with a child actor in the lead role?
Response: I was insanely fortunate to have Tonyboy Marin star as Jake in the film. He was my rock on set. He always showed up prepared and gave a truly amazing performance almost completely without dialog. The only day that was a little tricky was the day on the playground when he was around the other kids because once you have a few kids around set they hang out and have fun and are totally kids and their attention spans can be more limited. I adjusted by cutting the actual fight scene, which we had rehearsed with our producer/stunt coordinator Rebecca Ahn. In the end, though, I feel that cutting away just as Jake charges the bully to the wide shot (with the arena-like circle of trees) actually has a more cinematic effect than if we had shot them fake punching each other.
6. It looks like you wore many hats while creating Boy In The Dark. What was the biggest challenge you had to overcome during production?
Response: It was definitely an interesting challenge serving as writer, director, cinematographer, production designer, illustrator, VFX artist, and prop fabricator on the film. Having been on hundreds of shoots over the years, working on set wasn't too bad, especially with the amazing cast and crew we had collected, completing the VFX actually ended up being the trickier part. Luckily, I had the aid of our VFX Supervisor Christopher Logan, who was able to complete the few shots I had trouble with, namely the part where Diana shoots the beam of light out of her mouth.
7. Looking at Boy In The Dark and your upcoming film Punching The Veil, I get huge Guillermo Del Toro vibes. Who would you say are your filmmaking inspirations?
Response: Guillermo Del Toro is one of my idols and serves as a constant inspiration along with Sam Raimi, Peter Jackson, Ridley Scott, John Carpenter, Steven Spielberg, James Cameron, Tobe Hooper, Ari Aster, Dave Eggers, Panos Cosmatos, Clive Barker, Stephen King, Mike Flanagan, Eduardo Sanchez, Ryan Krueger, Alex Noyer, Jed Shepherd, and countless others. I also find myself compulsively watching Shudder most nights. The Joe Bob Briggs Last Drive-in episodes alone are a masterclass in horror along with amazing documentaries like In Search of Darkness series. As an illustrator and writer of comics, I also read massive amounts of graphic novels with Ed Brubaker, Rick Remender, and Jeff Lemire as some of my favorite writers.
8. In your opinion, why do you think short films have gotten more important in recent years? What makes them so enjoyable to watch?
Response: As streaming has become the main way that we consume media, many times on our laptops and cell phones, shorter content has risen in value and interest. I also think Youtube has had a large influence on how people consume playlists of shorter content that can also serve as educational or entertainment. On that front, curated platforms like Reveel and ALTER can be an excellent source of free short horror and sci-fi content. These platforms can both entertain and educate the next generation of genre filmmakers.
Boy In The Dark is about a boy who makes an unspoken deal with the monsters he sees in the dark, to find the courage to stand up for himself in the light of day. Watch the short film on Reveel.